Mobile Seized Injector Removal Service
For vehicle's such as Renault Trafic & Nissan Primastar 1.9 F9K & 2.0L M9R engines & other makes and models
Available to trade only with indoor work shop space and compressed air system.
DTM Ltd have been carrying out these removals for a number of years formally only at our Bristol based work shop, but due to demand we have now extended the service to a mobile service capable of coming out to customers workshops.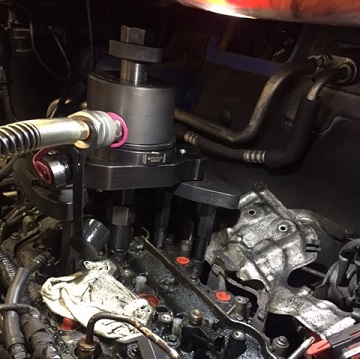 ---
Costs Within 10 a mile radius of BS20SW
£250 to attend and remove up to four injectors, an additional charge of £30 per injector will be added for removal of any injector that breaks or snaps during removal.(this is dependent on where the breakage occurs, in some uncommon instances the vehicle may be required to be recovered to our workshop and additional cost will be incurred)
An additional £30 per injector bolt that snaps during removal may also be required for cutting/drilling out, this can result in the vehicle having to be recovered to our work shop in some circumstances with additional costs, which will be discussed if required.
Costs over 10 mile radius of BS20SW
These will incur a 50 pence per miles additional cost over the 10 mile radius only. Upto 50 miles.
Prep required by customer prior to us attending
Vehicles are required to be stripped to allow us access to the injectors, any additional stripping required that we need to do will be chargeable at £59/hour, please call if you are unsure what needs to be stripped.
Supply of New Injectors/clamps & Bolts
We can if required supply and or fit new injectors, clamps and bolts at competitive prices and will normally carry these items on the van if you require them, please enquire when booking.
Areas we cover include; Bristol,Taunton, Frome, Bath, Weston Super Mare, Stroud, Gloucester and Swindon. Contact us on 0117 971 0203 for more information.